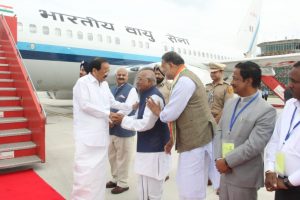 Press Note
Chandigarh 14 August 2019: As a tribute to Governor of Chattisgarh and former Deputy Chief Minister of Punjab, late Sh. Balramji Das Tandon, a memorial lecture was organized in the Law Auditorium of Panjab University, on his death anniversary. Vice President of India, Sh. M. Venkiah Naidu was the principal speaker on the occasion. Other dignitaries in attendance included Governor of Punjab – Sh. V. P. Badnore, Union Minister Sh. Som Parkash, PWD minister, Punjab – Sh. Vijay Inder Singla, Vice Chancellor or Panjab University among other senior bureaucrats, police officers and leaders of various political parties.
On the occasion the Punjabi version of the book written on the life of Balramji Das Tandon was also launched by the vice President of India. The book was originally written by son of Balramji Das Tandon and President of BJP Chandigarh Sanjay Tandon. The Punjabi translation is done by R. S. Libret.
The program started with a floral tribute to Balramji Das Tandon, followed by a short address by the Vice Chancellor of Punjab University Prof. Raj Kumar. Kumar said "We are fortunate to have the Vice President back at the University for a Lecture in short span of four months."He thanked the vice President for his presence.
In his address, vice President Naidu remembered late Balramji Das Tandon. He said, "I have been following Balramji Das Tandon from my younger years. He is an exceptional example of a person who tirelessly worked for the people of this country. He set the benchmark for political conduct which is exemplary, even today for everyone involved in politics and governance." He added, people should learn from his life. According to him, unlike today, when politics has become a profession, it was considered a mission to work for the development of nation in earlier days. He said, "It is the need of the hour that we should accept our responsibilities as a citizen of the country and help in its development. Politicians should follow a strict code of conduct and their conduct should be an important criteria for their selection as people's representatives."
Later in his address, he touched the issue of abrogation of Article 370. He said, "Every citizen, and all leaders irrespective of the political party should rise above their vested interests and support all decisions and initiatives taken in the direction of development of nation" He mentioned that Article 370 was a transitory measure and its removal had been advocated by all parties from time to time since 1962. He quoted several articles from newspapers from 1960s, to keep his point. He also said that people across the country have been rejoiced by this decision. Even though some western media has been showing this in negative way, we as citizens should understand that this is an issue of national integrity and unity.
Naidu said, he is a strong advocate of good governance and supports reforms which can help us achieve that. He further added that the public representatives should undertake constructive debate rather than disrupt the proceedings for the sake of opposition. He said, "5 'D's – Discuss, Debate, Decide, Decentralize and Deliver are key to development and progress of nation. He said, reforms are necessary not only in the governance but also in judiciary of the country. He said, the judicial process in the country is very cumbersome and lengthy because of which at times the justice is delayed for decades. According to him, Justice delayed is justice denied.
He appealed to everyone that everyone should pledge work together to get rid of social evils like discrimination on the basis of gender, caste, region and community.
Sanjay Tandon also addressed the audience. He thanked everyone for their presence. He said, his father was not only an ideal for the country but for his family as well. He had been working to help the less privileged all his life and made sure the work continues through his family after he was no longer there. Sanjay said, he is working hard to follow in footsteps of his father to work for the nation and help the under privileged as he can. Several non-profit organizations have been setup for this purpose. He also announced that, coming November on the birth anniversary of Balramji Das Tandon, another non-profit organization is going to be setup to help the poor and under privileged people like widows in and around Chandigarh.